That's french for ''chimp-gineer''
A MONKEY TAKES ITS FRESHLY BUILT BIKE




FOR AN EPIC SESSION
The entirety of ''Singénieur'' is based
on the eponymous song composed by
the Montréal band ''Bécyk Fantôme''.
​
Thank you guys for allowing us to use your song,
it is the foundation of our project.
The main goals with this short was
to challenge ourselves artistically, without constraints.
​
We decided to do so by mixing
some of our favorite techniques.
​
2D animation and photo manipulation for the monkey,
3D animation for the bicycle
and finally, stop motion for the backgrounds.
​
The short will be around 6 minutes long.
We are currently aiming for an early 2020 release date!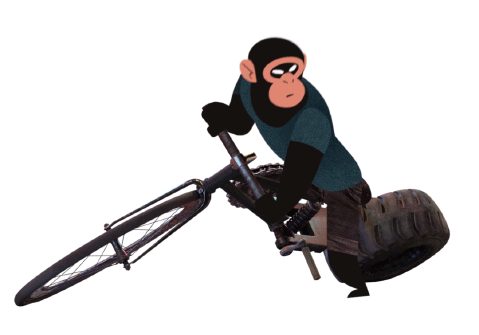 Here's where you can find them:
summary

of production pipeline
First, we shoot every background frame by frame.
We use different techniques depending on
lighting conditions or how precise we have to be.
​
Afterwards, Alexis animates and lights the bicycle.
It's during this stage of production that he'll determine where shadows are cast and reflections are needed.
Then, Lou times out every scenes.
He jointly does a very rough 2D animation pass,
mainly to figure out where the bike will be.
​
Finally, using the bike as guide, the monkey is cleaned
and textures are added to his clothes.
With all the components done, we're ready for compositing.
STOP MOTION SETS AND LOCATIONS